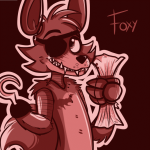 Five Nights at Freddy's inspired a fun spinoff called FNAF: Night at Foxy', in which you had to defend a store against thieves till daylight.
Instructions
Foxy the pirate has a maroon complexion and has an eyepatch and hook on his right arm. Foxy's limbs, including his white legs and feet, and his pale midsection are all on display. If the camera is not opened wide enough, he will emerge sooner, forcing the player to maybe abandon the cove. As he makes his way to the Office, he breaks into a run down the West Hall.
From sunrise till dusk, security at the store is required. You shouldn't worry about robbers, however. The business is haunted by Foxy, a mechanical doll. The shop's door may be closed and the time advanced using the skip and door buttons over on the right. Foxy will come terrify you if your battery dies while the night is still active.