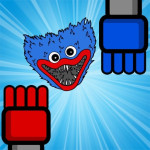 In Flappy Poppy, a game that was clearly influenced by Flappy Bird 2, you take control of a Poppy and try to guide it past various challenges.
Instructions
You can tap to fly, and you can also tap to go through the robot poppy hands. It is necessary to gather up all of the medals. Don't forget to steer clear of the
When soaring, one has yellow poppy hands. It is possible to gather the blue heads, although doing so is not recommended.
Those in the pink. Strive to have the highest score. Good luck!