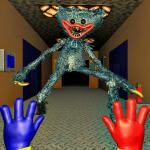 Survive five gruesome nights as a security guard in the fascinating and adventurous FNAF game, Five Nights at Huggy.
Instructions
Our job is to monitor the premises of the plant with the help of a video surveillance system. Just activating the tablet will allow you to choose between cameras. At first, there will be relative peace and quiet. By clicking and dragging with the mouse, you may control the cameras.
You have the option to relocate, open and shut doors, and activate/deactivate lights. Keep an eye on the battery levels of the doors and lights to make sure they stay functional. This opens the door for shady types to enter. Follow their every move and look for Huggy Wuggy to make an appearance on the screens from time to time.