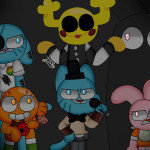 You must assume the position of a security guard in Five Nights at Gumball, a fascinating game that was inspired by Five Nights at Freddy's.
Instructions
This is a really distinctive and intriguing online game that belongs to the Gumball Games and FNAF categories. Even on your phone or tablet, we are confident you will enjoy yourself immensely while using it today.
You can tell that this online challenge is fresh and thrilling. You will be required to assist Darwin or Gumball in overcoming a perilous and unusual obstacle. The MOUSE is required to play the game. The missions and difficulty for this new challenge will vary. To make it through this terrifying adventure, you and the Cartoon Network characters must finish each task promptly.
Winning guidelines
The arrow keys can be used to move about the space. You have to search for monsters. However, exercise moderation. You will come under attack from the other side if you focus too intently in one place. You can shut and open the lights and doors. Utilizing electricity effectively is crucial, though. The dolls will eliminate you if you run out, and you will lose the game. We hope it doesn't happen and wish you luck. Instead, we wish you a ton of joy while playing the game!