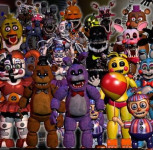 You must manage the surveillance cameras at Fazbear's Pizza in the fantastic FNAF game Five Nights at Freddy's: Custom Game!
Instructions
You may use a variety of the animatronics from the FNAF series to make your own FNAF game.
Additional tools like the heater, air conditioner, and a world music box will be required. Along with it, you may also gather Faz-Coins, set up laser traps at the vents, and keep a watch out for the Pirate Cove curtains.
Rules
The basic goal of the game is to live from midnight to six in the morning, giving you six hours to fend off the monsters' attacks.
You have to make it through five nights while avoiding the several lethal animatronics that prowl the pizzeria and are out to get you.
Features
The challenge menu now has 16 brand-new tasks. They're all really fun to watch!
Both new and returning characters both feature voice acting.
Get cutscenes and unlocks office skins.
How to play
W- front vent door




A- left door




S- cameras




D- right door




E- electric shock