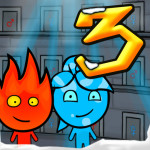 The third Fireboy & Watergirl game is called Fireboy and Watergirl 3 Ice Temple, and it's a co-op platformer. The basic objective is to finish all 36 progressively challenging stages.
Instructions
It's safe to say that Fireboy and Watergirl 3: Ice Temple will keep you entertained for a long time. In this adaptation, fireboy and watergirl encounter ice for the first time and must learn to cope with its consequences. Although fireboy can quickly cover ice, watergirl has to take it easy.
Fireboy and Watergirl are lost in the temple, and you must guide them to safety. Melt ice with fire beams and seek for the many buttons and grips that will help you progress. You'll need to take use of each character's unique skills to advance through the game.
How to play
Player 1:
Controls Fireboy with the arrow keys ← ↑ →
Player 2:
Controls Watergirl with A,W,D keys.