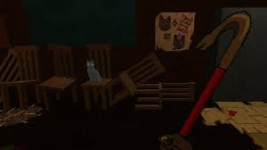 Dystreasure brings you to a new world and you need to find the way out of the house with various groceries in the bag.
Instructions
Today, everything you could possibly need is available. Anybody can just leave the house, go to the closest supermarket, and come back with a bag full of food. Our life is fairly good, and we do not want resources. But perhaps things won't always be like this. After all, there is numerous post-apocalyptic fiction available today for a reason. It's possible that human civilization will end, everything will stop working, and we will once again need to work for a living, just as we did many centuries before.
Rules for Success Dystreasure
The worst-case scenario in this scenario is if they contract an infection from diluted fresh water. After all, if you can go many days without eating, you should drink as frequently as you can. Greater horrors will result from dehydration than from simple hunger. Consequently, the first thing to do after entering the grim and sad future world is to search for drinking water. This game will revolve around that.
The main character lives in this unsettling world as a survivor. Beginning each morning with the fact that he goes in search of water. Because without it! Gather bottles that are dispersed over the map to increase the number of supplies you have. But be ready to occasionally compete with other hungry vagrants for prey!