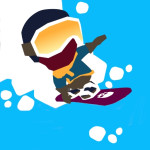 Downhill Chill is an enjoyable IO racer game in which you compete against other players while also navigating turns and improving your vehicle.
Instructions for Downhill Chill
Have you ever wanted to feel the rush of excitement that comes with skiing downhill at a fast speed? As you move through the stages, there will be an increasing number of adversaries trying to stop you on your path. Be careful not to get overtaken. Challenge your friends to a race across the ramps, perform flips, and level up your skis or boards. Ski between the two banners to rack up additional points by using the mouse to adjust the direction of the skier.
Features
Controls that are simple to use
The fights against the bosses are so much fun!
Incredible visuals in 3D
200 tough stages!
Related Games
Do not forget to check top popular games on our site. especially winter games: