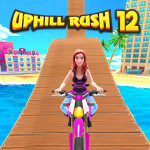 In the thrilling action game Uphill Rush 12, you must keep your bike from flipping over.
Instructions
The Uphill Rush 12 courses are more thrilling and visually spectacular than ever before. Proof of your driving prowess will be required at each of the 20 checkpoints. There are a lot of twists and turns and barriers to go over, so prepare to do some serious head-spinning.
Whenever you've made it through a level without dying, you'll be able to spend those coins on whatever you choose. You may use these coins to advance in the game or buy new stunts.