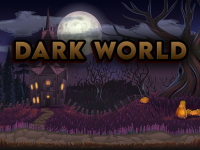 You must successfully complete each of the game's 30 stages in order to escape a dark planet in the intriguing action-adventure game known as Dark World.
Instructions
Your mission is to complete the 30 levels to leave the dark world. But take caution! There is always a more efficient way to complete a level. Look for handy goods across all gaming platforms.
Features
30 distinct levels two types of assaults images that are lightweight and suitable for mobile browsers Three adversaries, each with a unique attack twenty languages option for local pause Horizontal orientation.
How to play
You can hop by pressing the jump button or by typing "w."
Use the "space" key on your keyboard or the "hit" button to launch a sword attack.
Toss a sword: Press the "c" key on your keyboard or the sword button.