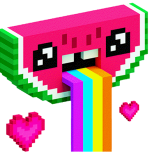 Color By Number is a great puzzle game in which you may select from a variety of graphics and finish them all to have fun!
How to Play
Color By Number is an enjoyable game for both youngsters and adults. Color By Number is an excellent approach for youngsters to learn about color and color distinctions. Adults will appreciate the lovely artwork as well as the chance to unwind and rest for a bit.
Color by Number is really simple to use. The first step is to choose an item from the drop-down menu that you want to color. There are several 3D things from which gamers may pick. To make things simpler for gamers, each item is separated into distinct categories.