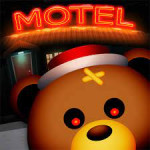 Bear Haven Nights is an exciting horror game in which you need to keep alive crossing the terrible night and escaping from a weird bear!
Instructions
Bear Haven is a horror-themed game in which you must survive the night from the terrifying bear. A part-time electrician at Bear Haven Motel. You work night shifts. You will be fired if you don't fix the strange electrical problems at night. There are a few guests who have left at this time. Beware of the bear If you spot one, hide and switch off the light.
Rules for Success
Night security guards aren't limited to watching the cameras. You can also walk around and interact in real life with the surroundings. Participate in an intriguing and eerie nightmare adventure. Restore the electricity and run from angry bears to keep them away.
How to play
Left-clicking lets you interact with things and swiping lets you look around.
Right-clicking closes the phone, and swiping lets you look around.