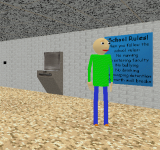 You must complete all arithmetic tasks in Baldi's Fun New School Remastered, a terrific Baldi game, and attempt to solve every puzzle.
Instructions
It's entertaining to play Baldi's Fun New School Remastered, a first-person escape game in which you must work out arithmetic problems and resolve other issues. Professor Baldi has you complete arithmetic questions in this free online game in order to leave the classroom. The remastered version of the original Baldi's Fun New School mod is called Baldi's Fun New School Remastered. If you haven't already, I urge you to give this mod a try. 14 modes are available in Baldi's Fun New School Remastered.
Exploration Mode: Travel without Baldi after you!
Story Mode: To win in endless mode, collect all 7 notebooks. Before Baldi catches you, try to gather as many notebooks as you can!
Endless Mode:

Try Collecting As Many Notebooks As Possible

Timed Mode: Gather all notebooks and depart quickly.
Upside Down Mode: While everything is turned upside-down, gather all the notebooks and flee!
Camping Mode: Keep the Fires Burning While Camping with Baldi and Joe in the camping mode.
Bossfight Mode: The Spinner Boss is back for more action! You can overcome him.
Portal Chaos: Gather all seven notebooks and exit the building while the portals are active. Randomly Show Up
Random Event Madness: More random occurrences happen!
Discussion Area: Chat and Have Discussions with Other Players Online!
Student Race:

Race An AI Controlled Student

And Classic Mode: Play In The Baldi's Basics Classic Schoolhouse with all features of BFNS Remastered!
How to play
WASD = move,

Mouse = look / use objects