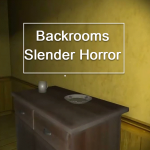 Backrooms Slender Horror is a great game for people who like to be scared because you have to find all the things you need to get out of a weird house.
Backrooms: Slender Horror Instructions
Backrooms Slender Horror is a casual horror escape game and hide-and-seek game. You have to find the things you need to get out of the house and trick the scary creature Slender.
Another horror game is Backrooms: Slender Horror. It's a game of hide-and-seek in which you have to find the Slender man. The goal of the game is to get away from the monster and figure out how to get around. You should keep an eye out for anything that could help you get away. Let's see if you can figure out how fast you can escape. Backrooms Survival Shooter is a great horror game based on the movie Backrooms. To eliminate all of the zombies, you have to use different weapons. Backrooms: Survive Adventure is a great game that is all about The Backroms. To win, you have to get through every path and win against every opponent.

How to play
WASD - move
E - Pick up objects / Open doors
F - Drop objects / Unhide from under the bed
C - Sit/Stand
Pause - Escape