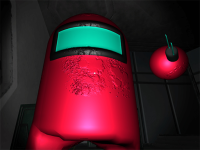 Among Them Horror 3D is an interesting horror-themed adventure game where you have to solve all the puzzles to get to the last door.
Instructions
This scary game is based on a well-known game. You have to solve puzzles along the way to get to the last door.
Among Them Horror 3D, the most popular horror game, has been around for a while. This game makes you think outside the box and solve problems to find the last door. In this scary labyrinth, your job is to figure out the puzzles and find the green circle. You have to be able to quickly get to the next levels and open all of the doors in the maze. This could be a hard and important battle for you to win!
How to play