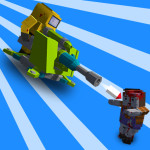 This is an excellent arcade game called Zombie Idle Defence 3D. In it, you get to take pleasure in a stunning 3D Minecraft-themed environment while tapping on the machine to fire bullets at the zombies.
Zombie Idle Defence 3D Instructions
Zombie Idle Defence 3D can be an entertaining idle game. Because zombies will come at you from all sides, you need to be prepared to defend yourself with the weapons you have. Establish a strong defensive stance, and equip your characters with the appropriate weaponry. Get ready to do battle against an adversary that is impossible to defeat. At various points throughout each level, zombies will assault in waves.
Your tactical and physical prowess will both be put to the test with each wave. As they make progress through the game, players will be able to unlock new characters and upgrade their weaponry. They are also rewarded with coins. In addition, there are multiple stages in the game, each of which presents its own set of problems and distinct varieties of zombies.
How to play