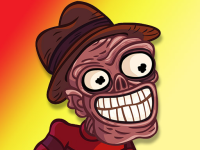 You must solve all the terrifying situations and get past all the amusing problems in the fantastic horror puzzle game TrollFace Quest: Horror 2!
Instructions
Some of the most well-known horror films, such Psycho and The Shining, are included in Troll Face Quest Horror. The straightforward point-and-click gameplay and humorous riddles will keep you both amused and furious.
The wonderful Troll Face Quest horror series has a second volume, titled Troll Face Quest Horror 2. It's packed with strange, funny, and spooky adventures! Now that the bizarre riddles and practical jokes based on some of the scariest movies ever produced are available, you can go to your bedroom or dorm room and giggle at them. Any little children or your grandmother should not play this game. This game is rife with allusions to scary movies and TV series.
Click on the objects to advance through each level. If the scene is not properly finished, you fail. You'll need to do another action in order to make a different ending. Playing this puzzle game will let you relive terrifying experiences while also making them enjoyable.
Do not forget to check TrollFace Quest: Horror 3 - the newest version of TrollFace Quest for more fun!