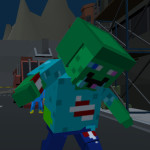 Everyone may have fun playing this exciting action game. Your primary objective is to hold out against the onslaught of zombies and make it out alive.
The Instructions for "The Last Miner"
Each level requires that you eliminate a certain number of zombies, but you must be careful not to run out of ammunition or to end up dead yourself. Don't forget to buy numerous skins or weaponry. In addition, accoutrements such as backpacks and goggles are offered for purchase.
These maps consist of:
Main Features
You can ask your friends or just a few random people to join you in the game.
Get a one-of-a-kind experience with images depicting bloody scenes and eerie sound effects.
Find a way to escape by completing difficult riddles or laying up traps that will bring all of your foes to justice.
DO you want to relax with other interesting zombies games on Backrooms? Check Zombie Invasion Game and Handless Millionaire Zombie Food now!