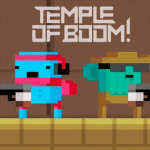 Temple of Boom is a fast-paced video game in which the player must explore the tower in order to eliminate all of the enemies.
Instructions
You have the option of leading a lone struggle against these gangs in the temples by yourself, or you may recruit the assistance of your friends to create a large-scale conflict. At the temples, you can engage in combat against these gangs either on your alone or with a companion. Either way, you have the option to do so. By breaking open the boxes, it is possible to obtain additional weapons.
Your sole objective, regardless of the game mode you select, is to stay alive. This game offers players the choice between two different gameplay modes: Endless and Campaign.
In the Campaign mode, you will compete against three different opponents throughout three different temples.
In the Endless mode, you will compete against an endless number of human opponents.
How to play
Single player game mode:
ARROW KEYS to move
DOWN ARROW KEY to pick up weapons
Z to shoot
X to switch weapons
Two player game mode:
Player 1:
W,A,S,D to move
S to pick up weapons
C to shoot
V to switch weapons
Player 2:
ARROW KEYS to move
DOWN ARROW KEY to pick up weapons
K to shoot
L to switch weapons