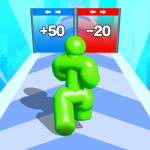 In the fascinating and entertaining hypercasual video game Tall Man Evolution, the player must lead the tall man to the appropriate gate in order for him to grow in stature.
Tall Man Evolution Instructions
Use the left and right arrow keys on your computer's keyboard to guide your stickman runners left and right as they race through this 3D hypercasual game. If you want to avoid being shrunken in size, you should stay away from red gates. Destroy robots and complete difficult courses to get the title of best parkour player ever!
Playing this one-of-a-kind game will make your heart race with excitement. Keep in mind: Maximise your length and width to cover more ground and escape being eaten alive by your little enemies. Transform into a gigantic and travel all the way to the end of the road to smash the bad robot waiting for you on the other side.