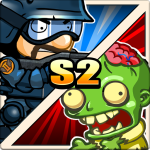 The fantastic action-adventure video game Swat vs. Zombies challenges players to eliminate waves of zombies by making use of a total of 16 distinct firearms.
Instructions
There are five different maps available in Swat vs. Zombies. The first option is the Highway. When you eliminate zombies, you can gain access to new and interesting areas. You may increase your point total by eliminating zombies. These points are redeemable for cash at a later time. Where do you plan on putting all of this money? You need just make your way to the Guns Shop to purchase ammunition, new firearms like a shotgun or M4A4, or a sniper rifle or chainsaw, or even a bazooka. You can even buy a bazooka there.
Rules
You may select from one of 16 different weapons to shoot a zombie after shopping for them in the shop. The difficulty of the game steadily rises as you go through its five stages. It works very well on mobile devices.
How to play
Move – W,A,S,D & Arrow keys.
Shoot – Spacebar.
Recharge – R.