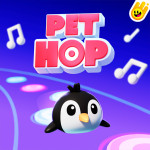 The casual game known as Super Snappy Pet Hop is both entertaining and highly addictive. Swiping to the side and positioning your pet so that it lands in the midst of the jumps is the primary objective of this game.
Instructions for Super Snappy Pet Hop
Yohami is the brains behind the Super Snappy Pet Hop game. You can win the game if you guide the adorable animals through the appropriate jumps and hops to reach the inflatable pads. Your objective is to finish with the best score humanly possible! Make every effort to achieve the highest score possible to take part in an incredible experience and gain access to other characters. Take a deep breath and try not to let your nerves get the better of you. Prepare to string together combinations and make your way through this game by bouncing. The game is designed to maintain players' attention by providing them with a variety of treasures and power-ups. These can help improve the abilities of your pet, allowing you to progress further in the game.
Main Features
You can progress through a significant number of levels.
Put your characters in motion by using your voice.
Try your hand at this easy yet entertaining game.
If you are seeking for additional arcade games, you might want to check out Grimace vs Police SuperCar or Parking Way. These two arcade games are both straightforward but difficult to master.