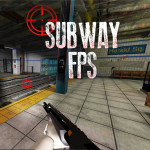 This is a fresh new action-packed game called Subway FPS, and your objective is to defend the subway from terrorists. Wave after wave of terrorists are on their way. It is up to you to wipe out every one of them.
Instructions for the Subway FPS
To stop a terrorist strike, the first-person shooter game Subway FPS will take you deep into the subways of your city. You may navigate around with the WASD keys, and you press space to leap. You can aim with the mouse as you run if you shift to run. It is also possible to reload with the letter R.
You'll have access to a wide selection of weapons, including the AK-47, grenade launcher, shotgun, rocket launcher, and grenade, among others. It is necessary to eliminate as many foes as you can in order to accumulate enough points for victory. After that, you must restart the game.
Features
Some instances of may be found in the following:
Have fun with the 3D visuals.
The strategic underground map to use.
Acquire a wide array of lethal means.
Have fun playing on whichever device you want.
How to play
LMB - shoot
RMB - aim
WASD or arrow keys - movement
C - crouch
SPACE - jump
TAB - score table