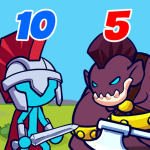 Stick Hero Mighty Tower Wars gives you the ability to defeat your adversaries by evaluating their strength and selecting the most effective strategy to get rid of them all.
Stick Hero Mighty Tower Wars Instructions
With this action-packed video game, you'll be prepared for titanic combat. Additionally, you'll be able to vanquish creatures and overcome your adversaries. Don't forget to collect gold and power charges along the way, get strong, and erect your own tower.
Stick Hero Mighty Tower Wars was created by Rocket Studio. Make the most of treasures that have been opened. You will become a more powerful warrior as a result. To vanquish your opponents and open up additional characters, you must carefully choose your tactics.