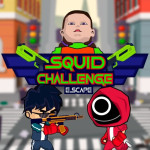 Try to get out of the building where the games are being held as quickly as you can in Squid Challenge Escape, a game that was clearly inspired by Squid.
Instructions for Squid Challenge Escape
Enjoy the challenge of evading capture in squid-themed games. To progress through the game, you will need both power-ups and coins. You may also get more powerful weapons that will assist you in dispatching your foes more quickly. By simultaneously pressing the up arrow key and the space bar, you may give your character the ability to leap. Within the context of one of these games, a player made the decision to abscond and get away from the location where the game was being played.
Features
Explore a variety of various levels that range in their degree of challenge.
The levels are always being brought up to date.
Simple manipulations of the game's elements
Sounds and visuals as realistic as possible.
If you want to play games that are full of action, you should check out Squid Survival.