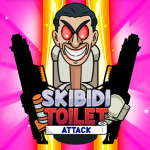 Skibidi Toilet Attack is a game in the Skibidi Toilet series that is a fantastic way to immerse yourself in fast-paced shooting while attempting to outlast waves of opponents over a variety of challenging stages.
Instructions for Skibidi Toilet Attack
To come out on top, you'll need to display heroic qualities. Fight against waves of enemies that look like toilets as you progress through the game. The primary character, the cameraman, may undergo progression to increase his health and range, as well as his ability to generate cash. You just need to walk to the far end of the building and wait there till you find the entrance to the skibidi bathrooms. Make sure you don't forget to take part in this absurd comedy and save mankind from the terrifying toilets.
Features
Participate in online multi-player games with as many as 15 other people.
There are four distinct maps from which you may make your selection.
You may give your avatar a unique look by picking from a number of different skin tones and accessories.
Participate in the activity with your close companions and other players.
Are you prepared to pose as someone else? Do not pass up the chance to play this thrilling action game online while you get the chance to do so. Check out Join Skibidi Clash 3D and Skibidi Toilet Basketball if you're looking for Skibidi games with a lot of exciting action.