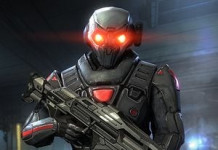 You must explore the spaceship in Shoot Your Nightmare: Space Isolation in order to attempt to solve the mystery. It's a fantastic shooting game with a horror theme.
Instructions
You will need to gather a variety of weaponry and solve riddles across the spacecraft in order to defeat the aliens. You need to hang on as long as you can while preventing the aliens from commandeering your spaceship. Unless you want to become one, that is! Your interplanetary expedition went horribly awry.
Now all of your team is lost. Your vessel has sustained damage. In this barren, godless world, you must now struggle for existence. If you wish to escape, you must use a gun. It is insufficient to just blast your way out, however.
Returning to civilization is also crucial. To get rid of the alien, you'll have to locate additional survivors, set up lethal traps, and use its own technology to entice it. Not a practice, this. This is a solitary endeavor. You are absolutely alone in the universe.
Features
There are several eerie alien models.

enormous spacecraft for exploration

Solve the riddles to access further areas.

In the event that you are destroyed on a stage, you will be resurrected at the entrance.
How to play
Move using the WASD or arrow keys.

To discharge a weapon, click left.

Aim your weapon with a right click.

Change your weapon with the mouse wheel.

F to initiate an activity or conversation

R for reloading a firearm

Hurry to shift

For a melee assault, jump while pressing the Space Bar V.