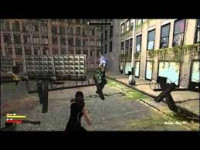 Residence of Evil: Quarantine is one of the best shooting-horror games in which you need to fight against the infection to be alive as long as possible.
Instructions for Residence of Evil: Quarantine
Your survival is your only hope in an apocalyptic world filled with living dead. You are a fighter against all bloodthirsty creatures using a variety of weapons. It is your mission to uncover the truth about the deadly virus outbreak.
Your mission is to survive and find Olivia. Resident Evil Quarantine: A free online shooting game, with social media features like achievements or leaderboards.
Residence of Evil is Quarantine is an action and horror game in 3D. It has a retro feel inspired by classic shooters like Silent Hill or Resident Evil. It takes place at Woodbury, a small community that is fighting a deadly viral outbreak. You will need to escape quarantine and uncover the truth behind this strange town. There are 12 levels to challenge your skills.
Rules for Success
Residence of Evil is a horror-themed 3D shooter game. Players will take on the role of an investigator who has to look around a run-down hotel that has been quarantined after a strange and dangerous virus spreads there. There will be many different kinds of monsters and creepy places in the game, so players should always have their weapons ready. If you like this game, you might like these other shooting games, too.