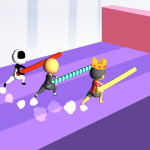 The running game Pole Vault Jump features graphics and music effects that are quite impressive. Your primary purpose is to run so that you can get past all of the challenges.
Instructions for Pole Vault Jump
In the video game Pole Vault Jump, your objective is to make it through a series of obstacles while simultaneously collecting coins and leveling up your characters so that you can purchase more powerful upgrades. You also have the ability to personalize the appearance of your character by giving them attractive clothes and altering the color of their skin. To complete your incredible look, add some jaw-dropping new hairstyles.
Main Features
Take your time listening to all of the different tracks.
Conquer all of your challenges and adversaries.
Enhance the capabilities of your heroes with the newest equipment.
You have the ability to give your character a unique appearance.
It's impossible to forget a game like Pole Vault Jump once you've played it. More free arcade games can be found on this site as Parkour Boss and Gyro Maze 3D!