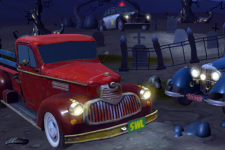 Parking Fury 3D: Bounty Hunter is an awesome 3D racing game in whhc you have to drive in crowded city streets without smashing other cars!
Instructions
Parking Fury is coming back with more missions and adventures. Watch out for police officers who will be looking through the streets. You don't want the police to see you. Complete all missions to become a well-known bounty hunter.
The story continues in Parking Fury 3D. This time, if you want to deliver cars to customers, you'll have to do harder missions. You must stay away from the police, who are always out and about. If they see you, you should hit the gas hard to get away before they catch you. By completing the missions, you can become a famous bounty hunter. This game was inspired by the classic car game Zombie Road, which you should check out.
Features
3D car parking game at night

There are both sport cars and classic cars to choose from.

The best places in the city to steal cars

When the police see you, they run away.

Mini-map showing where the police cars are.
How to play
WASD or arrow keys to drive the car
C to change camera view
Ctrl to steal a car
Space bar to use handbrake