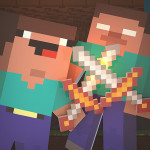 Nubik vs Herobrin's Army is an incredible adventure game in which you may bask in the stunning Minecraft aesthetics while competing with other players to see who can be the most heroic.
Instructions for Nubik's Army vs Herobrin
Nubik vs. Herobrin's Army is a video game that was produced by Mirra Games. Every time you beat a game, you have to construct your own arsenal of weaponry. First, combine weapons in your locker that are identical to one another in order to evolve them, and then use the money you earned to improve your warrior skills.
It is imperative that you remember to fortify your defences, build up your strength, and rescue your brother. You can become a hero by rescuing your brother. Enjoy yourself while you play even more games in the Backrooms!
How to play
WASD or arrow keys = move
Left mouse button = attack
Drag the weapons in the inventory to the same weapon to get an upgrade.
(on mobile control takes place through the on-screen joystick)