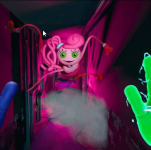 Noob Mommy Escape Parkour is a fun one to play since it combines elements from Minecraft and Poppy Playtime. You need to go as far away from each block as you can by jumping. Your overall performance will be determined by how far you traveled and for how long you were able to stay alive.
Noob Mommy Escape Parkour

Instructions

Mother Long Legs is giving pursuit to Noob, the most horrifying toy in the 3D universe, as she tries to capture him. You can only go as far as you can by jumping from one block to the next. You may demonstrate your level of ability by climbing the leaderboard and completing the portal challenge as rapidly as possible. The game will finish for you if you do not be captured by the monster with the long legs or if you do not fall into the lava that is boiling.
How to play
If you become stuck, you may use the WASD keys to move, leap, and switch cameras, or you can punch the left mouse button.