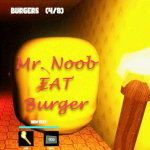 The primary aim of Mr. Noob Eat Burger is to discover the hamburgers by equipping yourself with a flashlight and a hamburger detector.
Instructions for Mr. Noob EAT Burger
In this first-person, 3D survival horror game, your objective will be to gather all of the burgers that are strewn around a creepy location. To succeed in this challenge, you will need a flashlight and the Burger Meter to help you through the maze-like set of rooms. If you want to make it out of this chamber unscathed, you need to use extreme caution. You are going to be required to put your talents in survival to the test.
Features of Mr. Noob EAT Burger
Learn how each character's special skills may be used, and gain some spectacular new skins.
The gameplay of dropping items from one location to another is natural and fluid.
The breathtaking visuals really bring Rainbow House to life.
Choose your preferred mode of play, whether it be offline multiplayer, internet multiplayer, competition versus friends, or solitary sessions.
In Backrooms, you may play Rainbow Craft Hide & Seek, and you can also discover more casual games that are entertaining, such as Slender Survival and Siren Head: Rise of the Monsters . Have fun playing right now!
How to play
WASD – Move.
E – Use.
The upper digital block – Inventory switching.
Escape – Pause.
Mouse – Inspection and rotation.