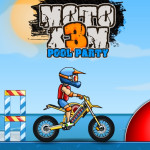 The thrill of riding your Moto X3M during the Pool Party is second to none in Moto X3M Pool Party game. At a pool party, you must stay moving!
Instructions
You've got the ability to drive across impossible landscapes, reach breakneck speeds, and pull off incredible stunts. Doing fancy front and back flips is a terrific method to buy some extra seconds. You can gain speed by using speed pipes, launching off ramps, and spinning in midair.
If you rev your motors and don't forget your helmet, you can take on 22 of these tests of skill. Each stage must be completed without taking any damage. Death hazards abound in Moto X3M Pool Party.
How to play
User arrow keys to control