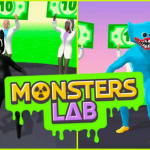 Monsters Lab: Freaky Running is a fun and entertaining running game that focuses on Freaky. Before you can cross the finish line of this exciting and difficult race, your monster's transition into its final form has to be finished.
Instructions for Monsters Lab: Freaky Running
You need to get through the green gate in order to build the ideal monster. Alternating between the green gate and the red gate is another method for producing a mutant. Maintain a full charge on your batteries. You have the ability to change into a monster in order to complete the obstacle course. You need to keep clicking on the same button until all of his enemies are eliminated in order to assault him.
How to play
You may traverse the course by gliding your finger or the mouse left and right across the screen. In order to assist you in transforming into a monster, you will need to acquire vials of green goo (or energy).