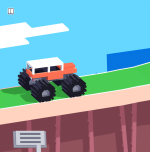 Monster Truck Racing is one of the most exciting racing games with pixel graphics, and the primary objective of the game is to overcome all of the challenges in order to get to the finish line.
How to Play
Monster Truck Racing was conceived upon and developed by Martin Magni. Monster Truck Racing is a game of aerial talent that challenges players to navigate perilous terrain while performing a number of different maneuvers. It is essential to carefully examine the path in front of you since difficulties have the potential to drive you ahead.
Keep an eye out for things like spline bridges and tree trunks, windmills, ramps, and other potentially hazardous features. If your car is struck by one of them, you may not be able to save the game. You need to improve your vehicle's power, grip, and speed in order to complete any of the challenges.
How to play
You may go ahead by pressing W, D, X, Up, Right, and clicking the Mouse.
Reverse - S, A Z, Arrows pointing down and to the left