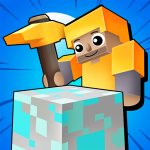 Your mind will be put to the test in Mine Farmer 3D with all-new puzzles and brand-new gameplay levels.
Instructions for the Mine Farmer 3D game.
Mine Farmer 3D provides a problem in the style of a maze that is entertaining to play. If you relocate the blocks that are on the field, your tractor will be able to pass through them and till the soil. You are responsible for applying strategic thought in order to figure out the most effective strategy to travel the levels and move the blocks. As you make your way through each stage and get ready to plant, you can look forward to a fun and adventurous adventure in the adorable cube universe.
Top Popular Games with Minecraft theme