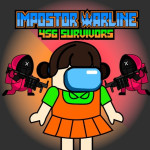 You take control of a soldier of the squid game in this action-packed video game called Impostor Warline 456: Survivors. Your mission is to protect the green light red light.
Instructions
Are you able to put a stop to this uprising and eliminate everyone who wanted the games to be over? You'll be tasked with defending your line and rescuing the doll in this action-packed shooting game. You will confront onslaught after onslaught of foes. In order to come out on top in the game of squid fishing, you will need to take charge of the soldier. Have fun leveling up your character and accumulating gold so you can get a better score.
How to play
The desktop character can be controlled using the mouse, and the arrow keys on the keyboard can be used to fire shots. The keys W and S may be used to travel up and down. Tablets and mobile devices may be used to touch the screen.