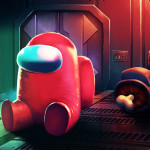 A fun and exciting adventure game, Imposter 3D challenges you to achieve the objectives of the 3D version of the imposter game while you relax.
Instructions
Discover who the impostor is in order to rescue the little astronauts in the online or video game version of solor. Your vessel has been taken over by dastardly adversaries, and they are preparing to take your life. It is possible for you to avoid their strong laser blasts and strike them from behind.
You may finally cut them in two with a quiet light sword that can blast them apart in one strike. This will allow you to complete the task. It is now possible for you to hear the footsteps of the other players. Have fun with each one!
How to play
Moved Arrow Keys or WASD Keys Attack Space