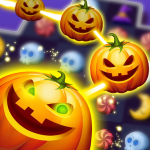 Happy Halloween is one of the best games to play on Halloween. You have to get rid of all the items and try to open as many levels as you can.
Instructions
Swipe on items that are the same to unlock all levels. Take away all the caskets and let the ghosts and bats fall to the bottom row. Follow all the rules within the time and space given. Try to see how far you can go!
Features
Moon, Pumpkin, and Candies are some of the cute characters in this game. It also has a witch hat, bat, ghost, and cask.
There are a lot of great graphics and effects, like background music and sound effects, to be found.
There are many different levels of hardness.
You can use four Power-Ups to: Use your hand to get 5 more moves, your broom to get rid of one character, your potion to get rid of 9 characters, and your skull to get rid of all characters that are horizontal.
You can also use Mix Power and Special Power.