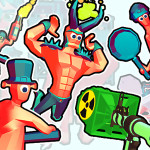 An great first-person shooter, Funny Shooter 2 challenges you to collect money dropped by fallen foes so that you may purchase upgrades for your arsenal.
Instructions
In the online 3D war simulation game known as Funny Shooter2, your objective is to eliminate all of your adversaries. The precision of the player is rewarded in Funny Shooter 2 via the elimination of foes and the accrual of game points. If you are successful in eliminating an opponent, you can be rewarded with a helpful item.
To improve your chances of coming out on top, you should try to acquire as many goods as possible by accomplishing perilous objectives and achieving milestones. You will find a mini-map in the top right-hand corner of the screen, which will display all of the nearest targets.
You will be able to interact with as many as ten weapons as you make your way through the hilarious foes and stunning visuals in this game.
How to play
Mouse = look around




WASD = movement




W + Shift = run




Space = jump




Left Mouse Button = shoot




Right Mouse Button (Hold) = aim




Mouse wheel = next/leading weapon




1-7 = weapon hotkeys




R = reload




G = throw a grenade




T = inspect the weapon




E = remove / remove weapon