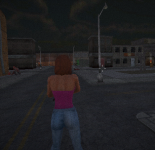 Evil Granny: City Terror is a great horror shooter game where you have to get out of traps and weird things.
Instructions
"Evil Granny City Terror" is a great scary game with a dark feel. You'll be stuck in a small village. Strange things have been going on for a long time, and people have been going missing. After a large group of tourists went missing, the police started to look into the area. The group of tourists went through town. As if they had fallen through the ground, the group was gone as soon as they got to town. This was the last thing that made people realize there was no evil.
You can't get out of City. Find eight keys to get out of the city. It isn't as simple as it seems. The city is being chased by Evil Granny and her puppets. Best of luck!
How to play
Arrow keys/AWSD to move
Space to jump
Mouse to aim and shoot
R to reload
Q/E to peer
F to pick up object
G for grenade
CTRL/X to sit down
T to slow motion
Shift to run