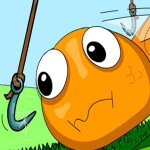 It's called Crazy Golfish, and it's a fish-themed golf game that you can play for free online. Your primary objective is to stay away from dangerous traps as well as various types of barriers, whether they be physical or mental.
Crazy Golfish Directions
It's possible that Crazy Goldfish will be the most terrifying round of golf you've ever experienced. In order to win this game, you will need to throw the fish gently into each hole. Unlocking tours and honing your golfing talents will allow you to level up as you progress through this golf game. Invest in better clubs to increase your chances of successfully hitting the objective. Move the ball around and get it lined up so it can go into the hole. It is preferable to attempt to get the ball into the hole in a single shot; however, if this is not possible, then you should work toward getting the ball into the hole as quickly as you can.
Main Features
Excellent Method for Shooting
There are hundreds of stunning golf courses, and there are always more opening up every month.
Get Access to More In-Depth Tours
There are many different game modes to put your abilities to the test.
Become the golfing equivalent of a real-life master! If you enjoyed this game, you should check out one of the many other options available at Backrooms. Try out Toy Shooter and Skibidi Pop when you have a chance.