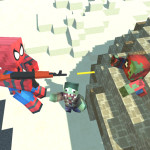 Block Craft Zombie Attack is a fantastic action game in which you must battle the monster, eliminate the uncommon zombies, and earn even more rewards for your efforts.
Block Craft Zombie Attack Instructions
If you want access to new maps, you are going to have to level up first. There are twenty-five distinct ecosystems for you to investigate, and it's a lot of fun! Increasing your level is the best approach to obtain new map unlocks if this is a goal of yours.
There are a total of 25 distinct settings that can be unlocked throughout the game. You should expect each subsequent wave and level to be more difficult than the one before it, so best of luck to you and may you be successful in your quest to become a Minecraft zombie killing master!
How to play
W,A,S,D For Movements.

Left Mouse Button for Shoot.