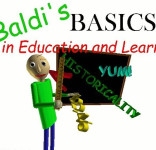 Baldi's Basics in Education and Learning is an interesting horror game in which you have to fight against various terrible monsters!
Instructions
Gamers are generally familiar with horror as a genre. Many games feature players having to battle or hide from terrifying monsters. Many developers create entire products around terrifying experiences. Even the most frightening concepts can become predictable after a while. Visionaries must think outside of the box to come up with new ideas. It doesn't look spooky, but the first Baldi Basics Online session isn't. The protagonist is welcomed to class by a funny-looking elementary school teacher. The music is bright and cheerful, and the surroundings are well-lit. At first glance, there is nothing alarming or threatening. Behind the scenes, however, there is something horrendous and disturbing. Only the most courageous souls can handle what lies ahead.
Features
An innocent exterior of edutainment conceals eerie and anxious gameplay
Exquisite 3D visuals and a wildly extravagant style of presentation
Design and animations that are deliberately awkward or claustrophobic
Deceivingly cheerful sound effects and voice acting


How to play
Use WASD to move and strafe. Use the mouse to look around. To run for a brief time, hold shift. Left-click to interact with the environment and collect objects. You want to find 7 notebooks around the classrooms. The first step is to find them. Each presents a number of math problems. You must solve each one to ensure the correct solution.