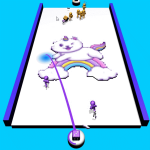 Art Thief 3D is an exciting adventure game that gamers of any age may enjoy. Your primary objective is to roll dice and direct them with your finger in order to generate individuals that steal artwork.
Instructions for Art Thief 3D
The game Art Thief 3D is a really casual experience. You have the task of extracting as many pixels as you can from a very large piece of artwork. The dice cube that you now possess will be located at the very bottom of the field. The red dice belonging to your opponent will be placed at the other end of the field.
The universe of Art Thief 3D is an immersive 3D environment that was created with the intention of providing a more authentic gaming experience. The stages of the game are packed with challenges that the player has to face in order to advance through the game and get additional pixels. Because the game's mechanics are fun to engage in and easy to understand, it is not difficult to play or learn how to play.