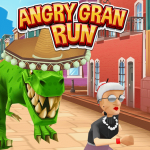 Angry Granny Runs is a fun game in which you race around the streets of Miami while dodging robots and dinosaurs.
Instructions for Angry Granny Runs
The Angry Granny Runs games were developed by a UK studio called AceViral. The development and mechanics of the game are superb. By including these accessible expansions, Ace Viral has created a fantastic game. Once Ace virus depletes all of her health, she may avail herself of these enhancements.
You may collect as many coins as possible by avoiding barriers, squeezing beneath airships, and gliding over vehicles, surfboards, and other obstacles. Go ahead and take in Miami's beautiful streets and warm weather.
How to play
Up arrow - Jump




Down arrow - Slide




Left/right arrows - Turn corners




A/D keys - Move left/right